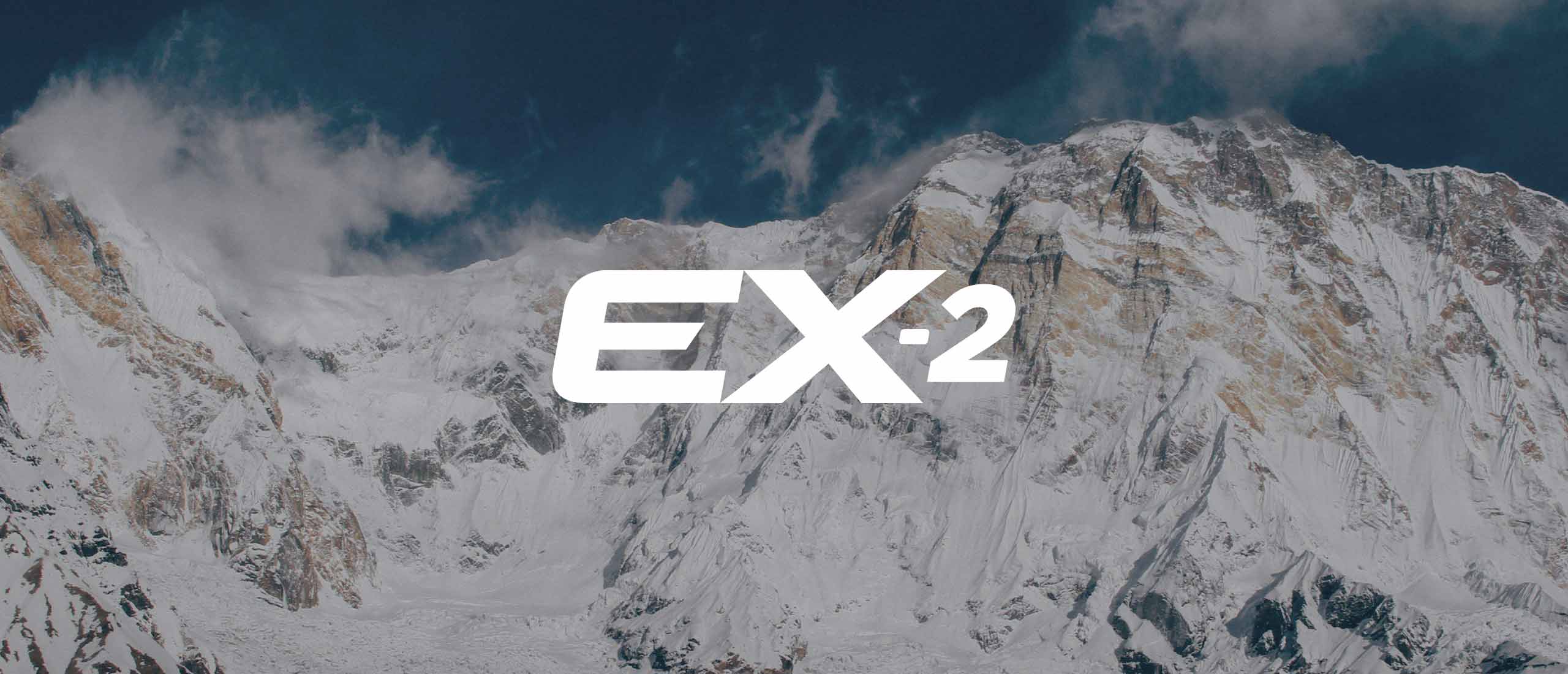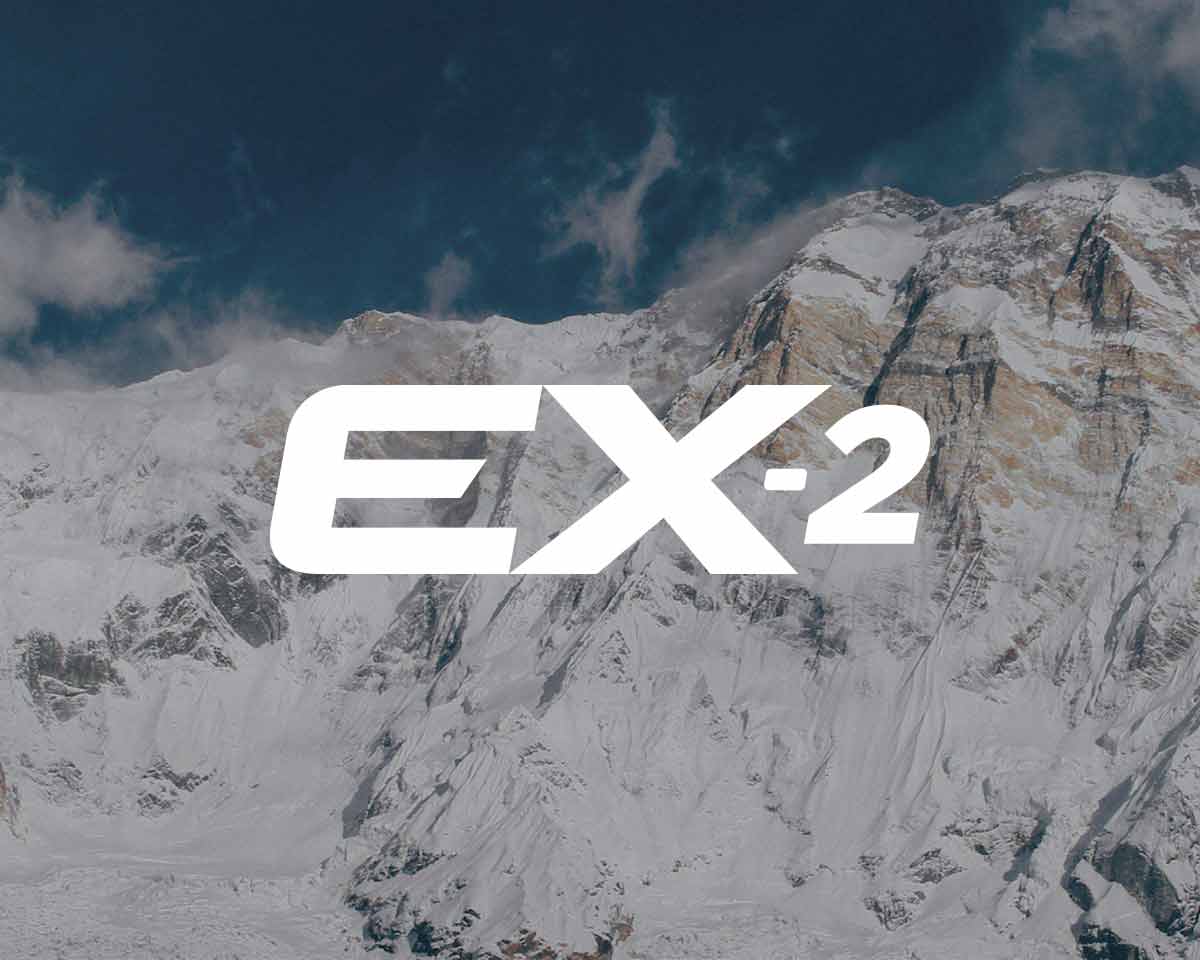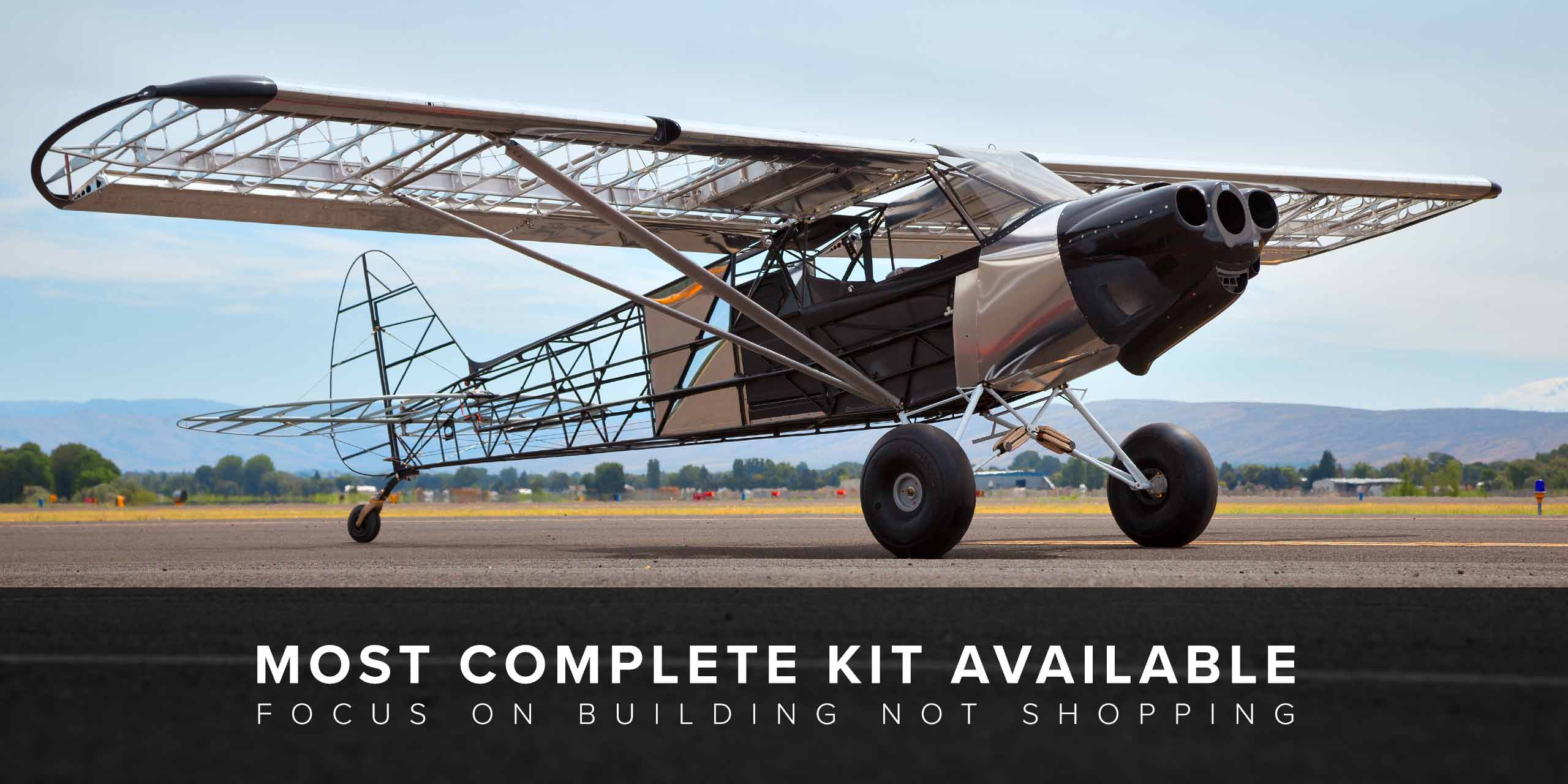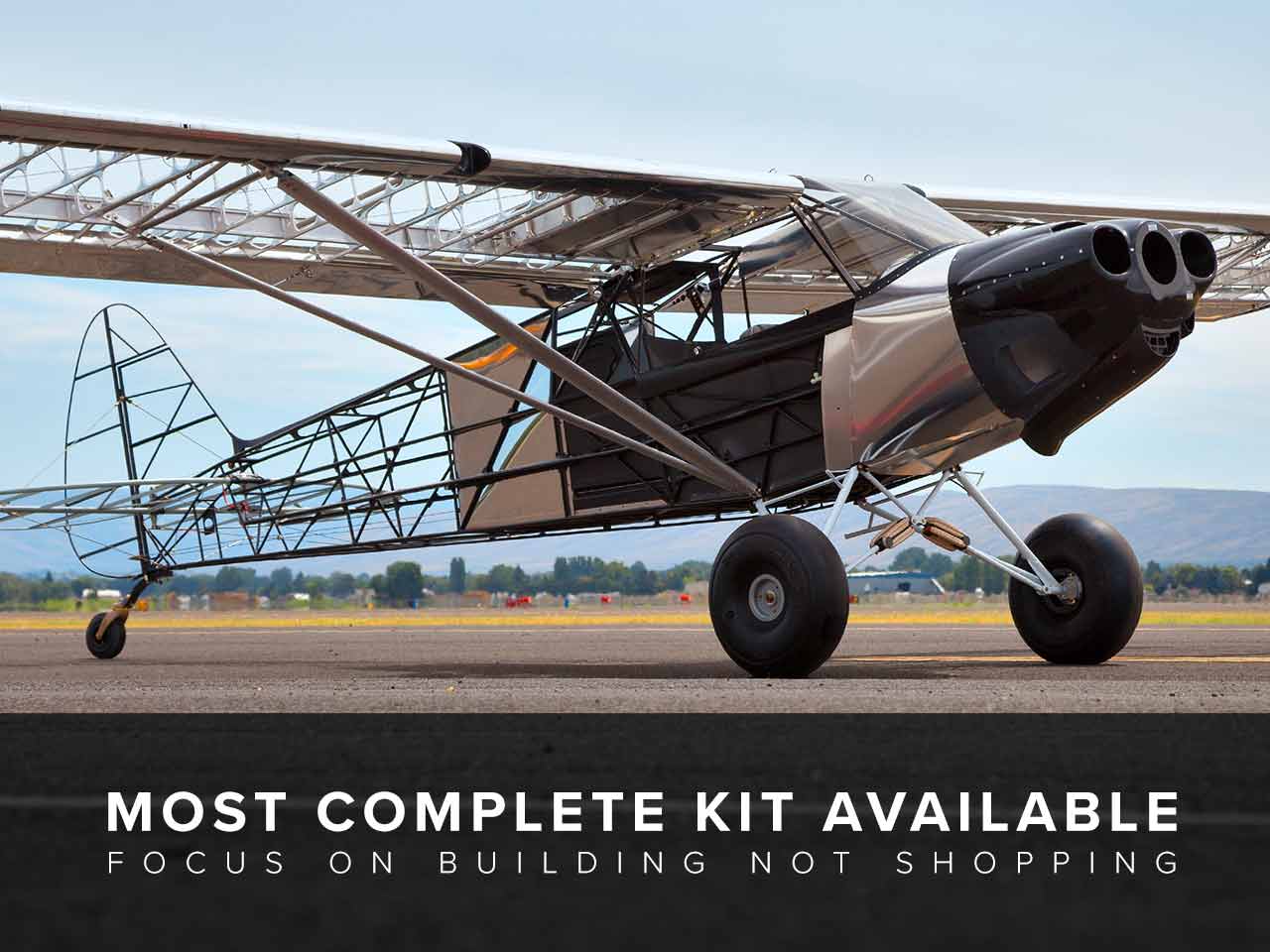 THE KITS
1. Fuselage
The fuselage kit includes a powder coated fuselage that is ready to attach parts to. The floorboards are gel-coated composite parts that need no painting… they are ready to fit and install. You will install the rudder pedals, torque tube, master cylinders and parking brakes on the floorboards, and then install the complete floorboard assembly to the fuselage with 20 screws.
2. Wing
The wing kit includes everything needed to assemble the wings, flaps, ailerons, and fuel tanks. Every nut and washer, screw and component part is in the kit. The ribs are a three piece design that enable the builder to assemble the center sections with the spars prior to attaching the nose ribs or trailing edge ribs.
3. Finishing
The Finishing kit includes: the engine cowl, engine mount, windows, control cables, gel coated interior panels, seat seat belts, flap handle and flap attaching components, instrument panel, landing gear system, tailwheel and tail spring, 6:00 x 6 tires and tubes, fuel gauges, and wing struts. This allows the builder to select their engine and instruments. Add paint and you'll be ready to fly.
BUILD YOUR DREAM
Construct your minimalist, lightweight EX-2 to drop into tiny mountain clearings surrounded by forest, or add extended baggage and long range tanks to support extended hunting excursions. The Carbon Cub EX-2 will satisfy your mission.
The components in the kit are fabricated on CNC mills and routers. The parts are precise and consistent. Unlike some aircraft kits, you never have to trim, modify, or finesse parts to fit.
Though the quality and performance of the EX-2 are unmatched by any other kit, the cost compares favorably. The EX-2 is, by far, the most complete aircraft kit available. Builders do not have to spend time shopping for hardware and materials that can add $50,000 or more to the cost of other kits.
CARBON CUB
EXPERIENCE
Three unique experience packages designed for you
at our test flight facility in Kamien Slaski Airport (EPKN)
1. STARTER
An hour of test flight session in a Carbon Cub EX including off field operations. Full pre and post flight briefing The starter package, allows you to experience an amazing Carbon Cub performance on our stunning aerodrome with both grass and tarmac runway. We invite you to test the aircraft with a full pre and post briefing in one of the most picturesque regions of Poland. After your flight, explore one of the most amazing Polish city, Wroclaw.
Cost – 300€
2. VOYAGER
Full pre and post flight briefing. Four hour flight session including off field landings. Dinner and an overnight stay in one of our four star hotel Spend whole day filled with back country aviation emotions! Four hour spent in the air (and momentarily on the ground) with the most agile STOL aircraft in the world . A complete, adrenaline-filled offer to test why the Carbon Cub EX-2 is the most popular aircraft in its class!
Cost – 600€
3. ULTIMATE BACKCOUNTRY
Pickup and drop off at Wroclaw International Airport. Full pre and post flight briefing.
Flight into the Bieszczady Mountains to test the ultimate backcountry adventure. Including low level flights, riverbanks landings, high altitude operations and more! Dinner and an overnight stay in one of our four star hotels plus an overnight stay at our mountain hut with the Carbon Cub waiting for you to take you back to the civilization.
Cost – 1500€
Learn More about the Carbon Cub Experience
BUILD SUPPORT
The quality and completeness of the EX-2 are supplemented with clearly written manuals and factory builder support that leads the industry.
PANEL OPTIONS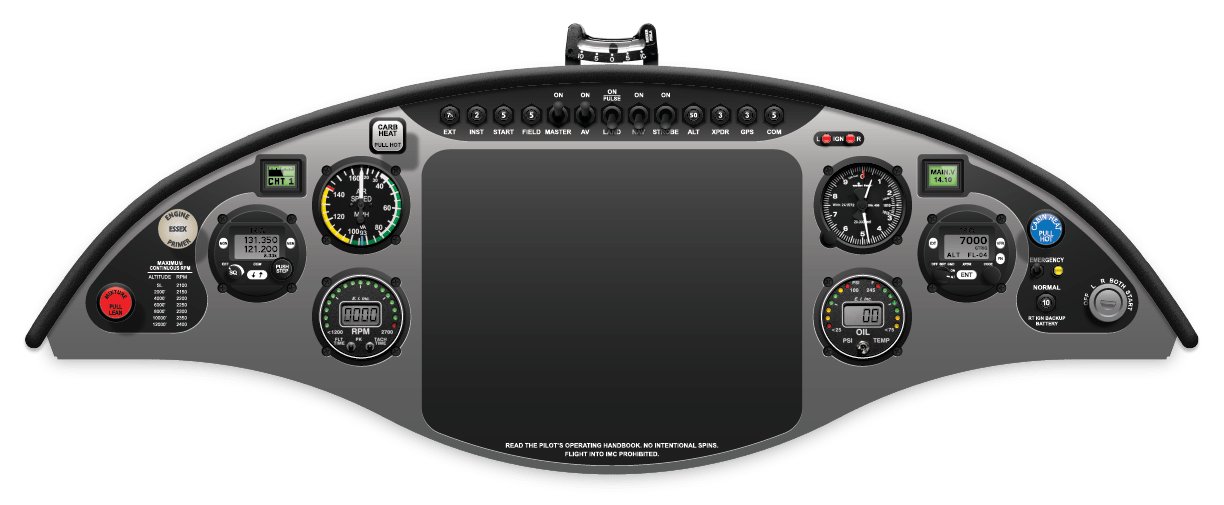 MYPANEL
Mounting Panel & Dedicated Power Circuit
Trig TY91 VHF Radio – 2¼"
Trig TT21 Mode S XPDR – 2¼"
PM3000R Intercom
CHT Monitor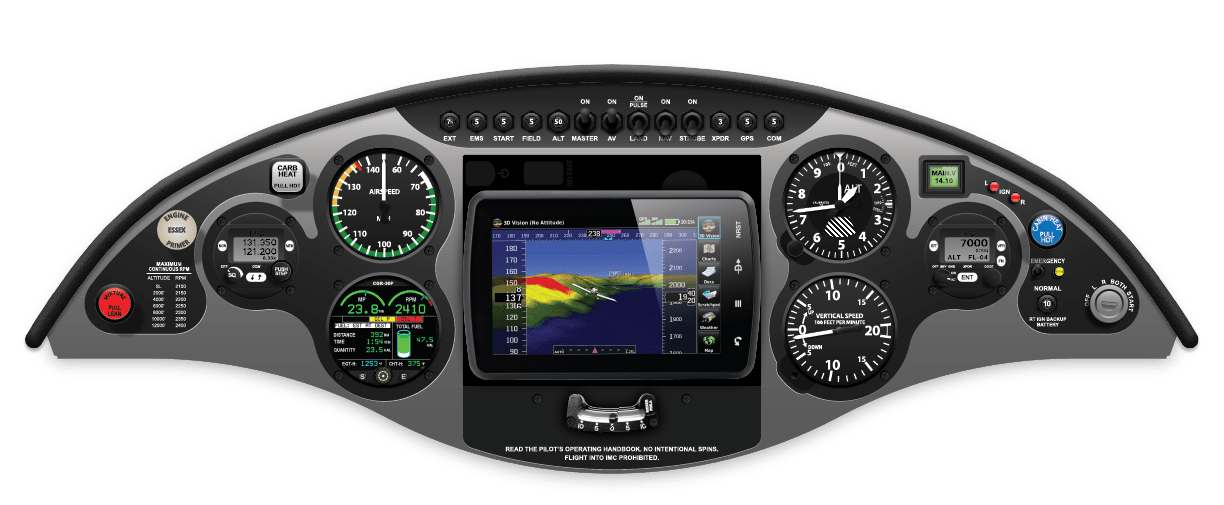 WORLD VFR
Garmin aera™ 796
Trig TY91 VHF Radio – 2¼"
Trig TT21 Mode S XPDR – 2¼"
PM3000R Intercom
Electronics Int'l CGR-30P Engine Monitor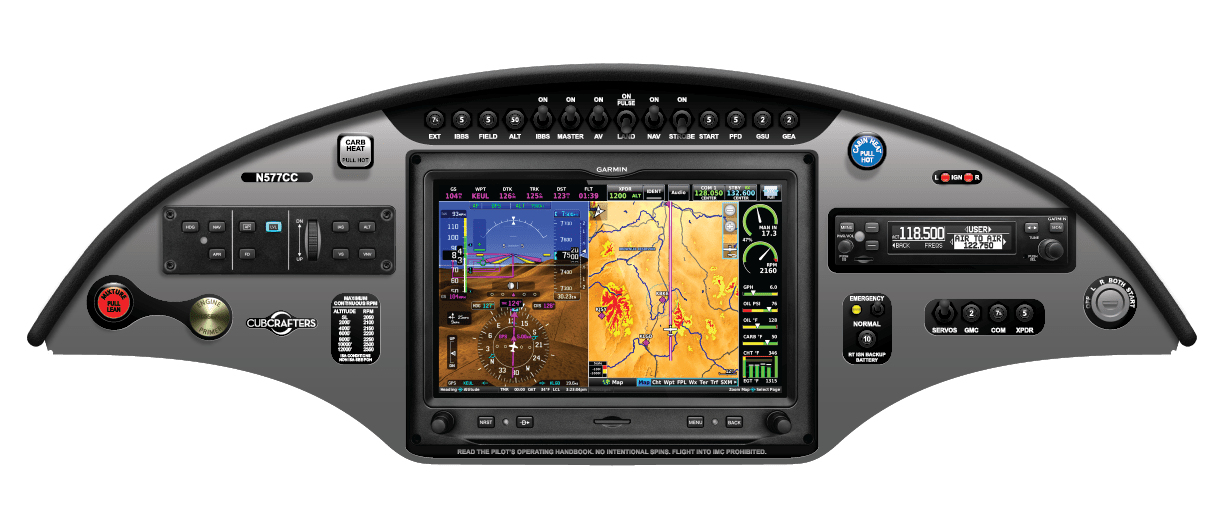 EXECUTIVE GLASS
Garmin G3X™ Touch
Synthetic Vision
Angle-of-Attack (AOA) Indicator
Garmin GTR 200 VHF Comm
Stereo Intercom
Video Input
Optional Garmin autopilot
ULTIMATE CUB KIT
The Carbon Cub EX-2 is the only adventure aircraft kit that promises exhilarating Carbon Cub performance. A well-built EX-2 will be indistinguishable from CubCrafters' mighty FX… a more capable taildragger simply does not exist. Fly a Carbon Cub for yourself, and then build your dream.